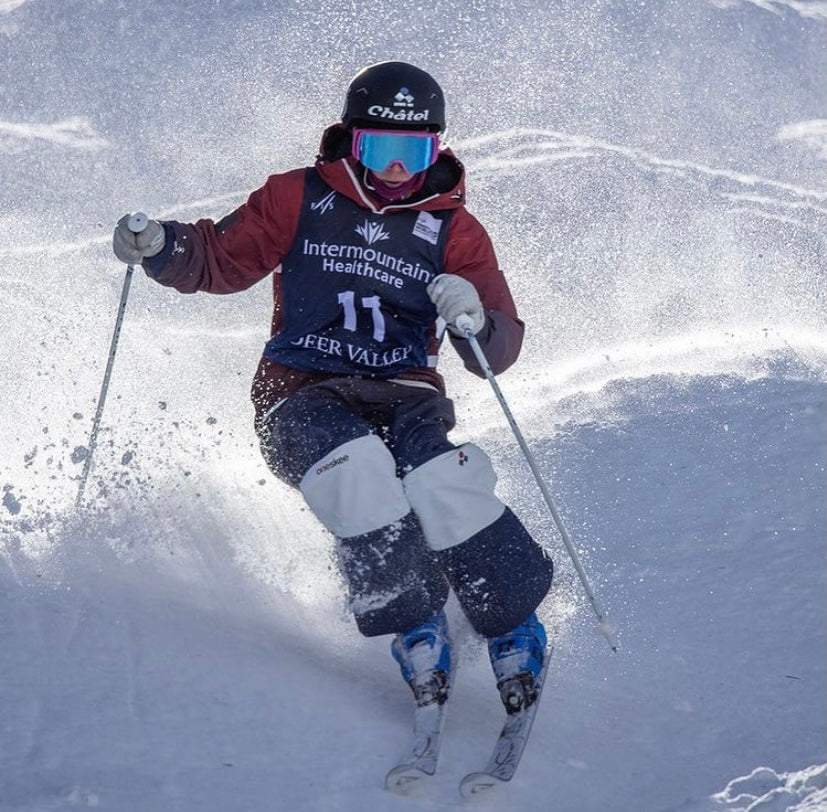 Who makes up the GB Moguls squad?
Currently, we have six members on the team. The three Gerken Schofield's: Leonie, Makayla and Tom. Max Willis, Mateo Jeannesson and Will Feneley are the other three members.
How successful was last season for the team?
The team had a great season. We're getting better and stronger each season. It was Leonie, Mateo and Will's first full tour, and they put in some great performances, with Leonie making numerous finals and Will with a personal best of 23rd in Deer Valley. Tom got the first ever medal for GB in a moguls world cup event, which is amazing. Makayla made every final bar two: such a boss!
Which is your favourite country to visit/compete in?
As a team, we like similar things but each have our own subtle personal tastes. Some of us like Japan, because of the culture, plus Makayla got a 7th there! Deer Valley is renowned for its top tier course, amazing crowd and beautiful mountains. Krasnoyarsk in Russia was also a favourite, as that's where Tom won the silver medal, and Leonie also got her first top 10 there!
How difficult have you found preparing for the new season with the impact of Covid-19?
Covid-19 has made some aspects of our training more difficult. For example, we had to take a few months out not being able to train on snow. During this time we had to focus on what we were able to do such as gym work, so we could get as much out of the down time.
Now, we are back in the swing of things returning to training with skis on our feet and hopefully this will continue into the season.
What is the best and worst part of being a professional athlete/skier?
Our favourite part of being professional athletes/skiers is being able to travel the world with like-minded people and doing what we love. The worst part is dealing with frustrations and bouncing back from them, it can be hard to stay positive when things aren't going well in competitions. Also, jet lag is a bummer!
Why mogul skiing?
Mogul skiing is a bit of everything. You need speed, you need jumps and you need technique. There is no relaxing moments during a run, you have to constantly be on your toes, correcting errors, speeding up, slowing down, absorbing the bumps, all while trying to make it seem like it's easy. All of that in under 30 seconds.
What's the hardest part of mogul skiing?
The hardest part of mogul skiing is the task of being good at everything. Some people are good at jumping, some good at turns and some good at being fast. To be the best, you have to work out how to be good at all three and that is difficult. Not only do you have to be good at all three but you have be be consistent on every race, constantly figuring the courses out and what is best for you.
What is the process like for getting onto the GB Team?
You have to make the criteria that is set out on the GB Snowsport website. The selection is made by a panel which includes the heads of specific areas, including the mogul head coach. You have to show that you are ready for competing at the highest level. The most important way of doing that is by putting down runs and getting results.
How much are you beginning to think about and focus towards the Beijing Olympics in 2022?
We still have a whole season before the Beijing Olympics, but this season is qualification season. It's important for us to try to stay focused on the present season, and just do everything we need to do to succeed this winter. But it can be hard to not think about the Olympics of course.
What's the best tip you would give to someone who's made a wrong turn onto the mogul field?
It depends on your level. If you are a beginner, we would say try to find another way down or hike back up! If you're not a beginner, then confidence is key. Keep those legs together, use the bumps to slow you down to maintain a speed you're comfortable with, and try to enjoy it while you're at it.
Why do you like representing Oneskee and what are the new Mark V suits like?
The quality of the Mark V suits is great. They're very versatile, we can use it for any kind of snow sport, whether we're freeriding, chilling on the slopes, or competing in World Cup mogul events, it works perfectly. This season is going to be epic, with our own brand new suits from Oneskee which we helped to design, we can't wait!

Oneskee are a unique brand, with passionate people, who are daring to be different. Oneskee don't follow the trends, they set them!