Discover More About Oneskee, the Ski & Snowboard Apparel Brand.
ABOUT US
We started out with one simple mission: to re-invent the one piece snow suit.
The one piece was the original fashion statement and pinnacle in technical outerwear for the mountains. It fell out of favour with the introduction of jackets and pants in the 90's, but the industry became stale, with the same brands making the same products.
We felt it was time for the one piece to lose its retro tag, and to be revived once again into the ultimate stand out piece for skiers and snowboarders. In 2014 our adventure of bringing the one piece back to life began, and what a journey building a brand from nothing turned out to be.
It's a mission we've stayed true to since day one, but the brand has always been about more than just a single product or concept. It's about being individual, inclusive, progressive and ultimately different from everyone else. We want our brand to turn peoples heads, to make people smile, and to make people feel like they are part of something.
"In order to be irreplaceable, one must always be different".
Dare to be Different.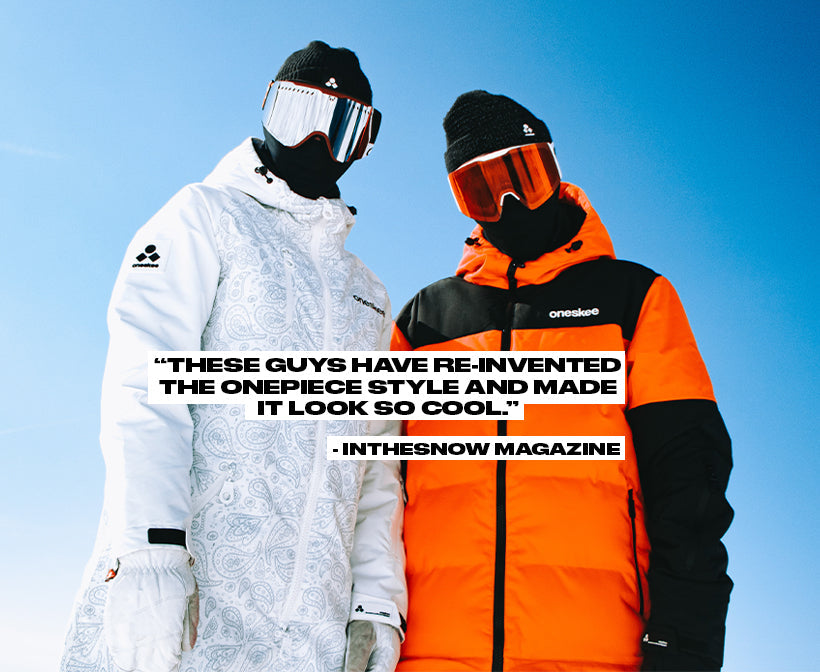 2014

First sample. Starting from the kitchen table.

2018

First London launch party with Novelist.

2019

Trade shows, going global.

2021

Our first kids collection.

2022

Nicolas Huber competes at the Olympics in a Oneskee.