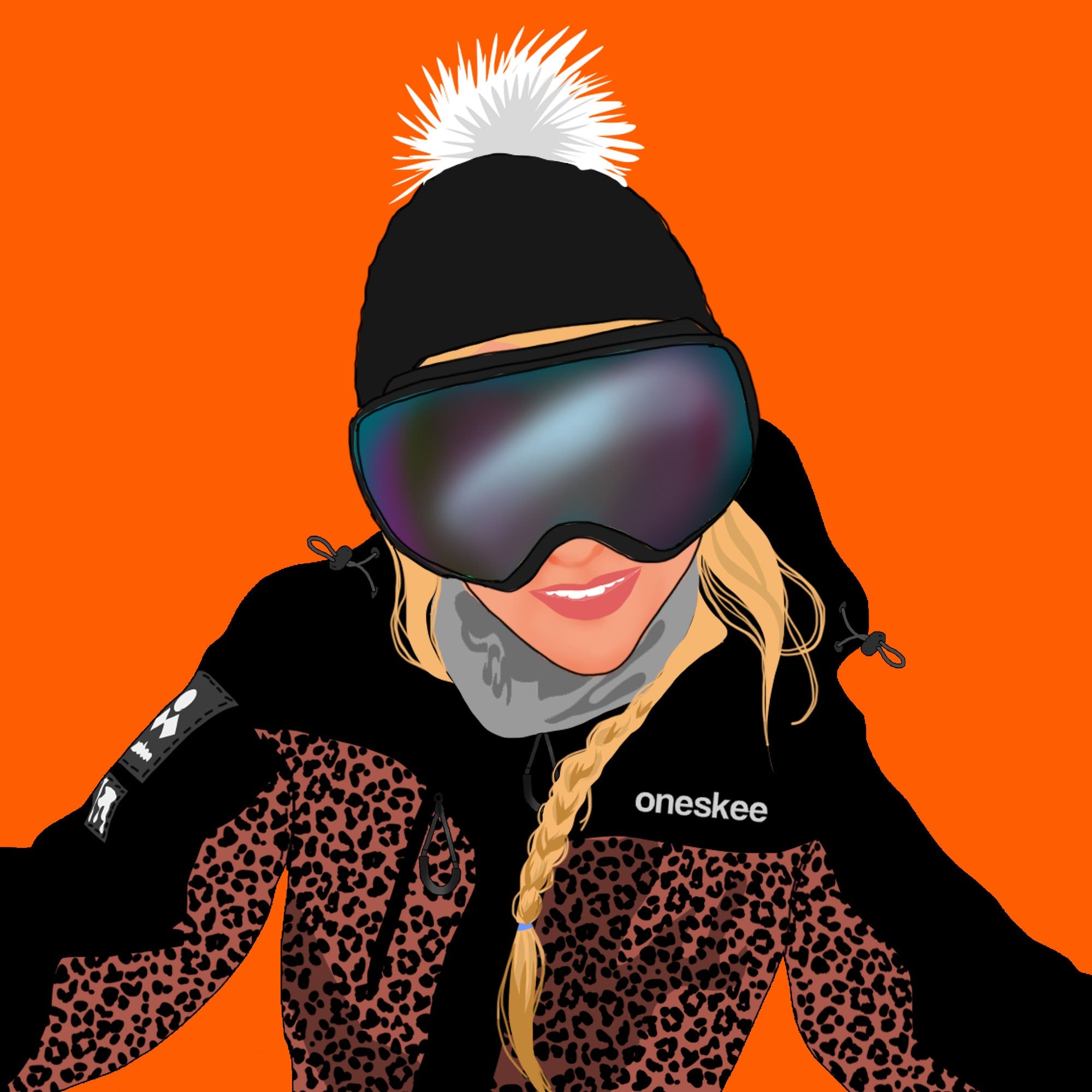 On
The Ambassador Series - Hannah Teter
The Ambassador Series continues with a closer look at our three-time Olympic snowboarder and former Olympic Champion, Hannah Teter. Hannah opens up about her career highlights, her recent appearance on the TV show the Titan Games and her upcoming Oneskee Signature Collection.
How have you been keeping busy during lockdown?
It's been a wild ride out there for everyone, with so much intense news on the daily. Luckily living in Lake Tahoe we have been one of the few towns in California that was able to open up early due to our low covid cases. I've been staying active doing all the fun outdoor activities like mountain biking, skateboarding, wake surfing, and at home workouts.

What was being on 'The Titans' like?
I had no idea what to expect going into the Titan Games, but after seeing how insanely buff the chicks were when I got there, I knew I was going to get my ass handed to me! It was probably one of the hardest "competitions" I've ever participated in because we didn't get to practice any of the obstacles they had set up for us! Which is something I'm not used to.

How did training for 'The Titans' compare to usual snowboard training?
We filmed in the middle of last winter so to be honest I hadn't worked out besides just snowboarding every day. So for the 10 days I had to get ready I just tried to hit the gym as much as possible, and lift as heavy as I could, getting up my stamina and endurance. I don't have cable TV so had never really seen the Titan Games and didn't really know what I was getting myself into! But after checking out a few episodes online I knew it was going to be probably one of the craziest experiences ever!

How was it meeting Dwayne 'The Rock' Johnson?
Meeting Dwayne was awesome, he's just as cool in person as he is on TV! He was filming a movie at the same time we are filming the show, so we really didn't get to see him too much besides while on set.
Your parents were skiers, so how did you start snowboarding?
I was raised on the backside of a ski resort and my school had a program that would take us kids to the mountain every other Friday. I skied for a few years and then transferred over to snowboarding at about age 9. My parents didn't really ski too much because it hurt my mom's knees. So we got her to try snowboarding with us and she loved it! Didn't hurt her knees so we all would go up snowboarding together and her and my dad would watch us ride the halfpipe. We even got them to drop into the halfpipe a few times and they would pump up the walls! I know where I get my athletic skills from!
How did you get into the halfpipe?
I grew up watching my older brothers compete when I was young, and always wanted to be as cool as they were. I was a major fan of all the pros back then and it was my dream to grow up to be like them. Our local mountain in Vermont always had a sweet park and halfpipe set up with a tow bar, so I would just ride them all day. I started competing at about age 11, and had high hopes of taking it to the top.

Best part about the halfpipe?
There's nothing like the feeling of free falling from way up sky high and waving at your friends below while you launch over them and try to nail a sick trick or just a huge air.

Worst part about the halfpipe?
Cant say I've ever been knocked out cold anywhere else but in a halfpipe. Comes with the territory though, you gotta be able to take a huge slam and get back up.

Best moment of your career on snow?
Definitely the 2006 Olympics in Italy because I was injured at the time and had to overcome the mind over matter mindset to still be able to win gold.

Best moment of your career off the snow?
Coming up with the idea of getting Special Olympic athletes competing in X Games paired up with pro athletes and having it as a medaled event is one of my proudest accomplishments.
What did it mean to represent your country at the Olympics?
Going to the Olympics with your flag and representing the country makes it a whole new experience. It gives more of an intense pressure because you are representing more than just yourself and everyone is watching. Every time I took it as an opportunity to give it my absolute best, and try to make the country proud.
Favourite place to go snowboarding?
I moved to Tahoe because after traveling around the globe it was one of my top places to ride. Every time I came here as a kid there was always waist deep powder, and I knew I needed to move here ASAP. I ride in South Lake Tahoe mainly.

You're an ambassador for the 'Special Olympics', why does it mean so much to you?
It means a lot to me to be a part of the movement that is creating a more inclusive world for people with intellectual abilities. The Special Olympics uses the power of sport as a catalyst for change, and I am inspired to be a part of the generation that is setting the expectation of more inclusive schools and workplaces.
What excited you about partnering up with Oneskee?
I have been a fan of Oneskee and was wearing their gear prior to our partnership because I really loved riding in their onesies! The fit was better than any other one piece suit I'd ever tried. It was a match made in heaven because after trying them out, I didn't want to wear anything else. It only made sense to work together because I want everyone to experience being as comfortable as me! :)

What can people expect from your upcoming HT Signature Series?
Get ready for the best gear you've ever ridden in! This is hands down the comfiest and most versatile line you'll ever wear. I helped design it for the everyday skiers and snowboarders who want to just cruise the mountain, ride powder, or send it off kickers and halfpipe, it hits every benchmark. Expect next level because this new line is literally above and beyond anything you've ever worn.