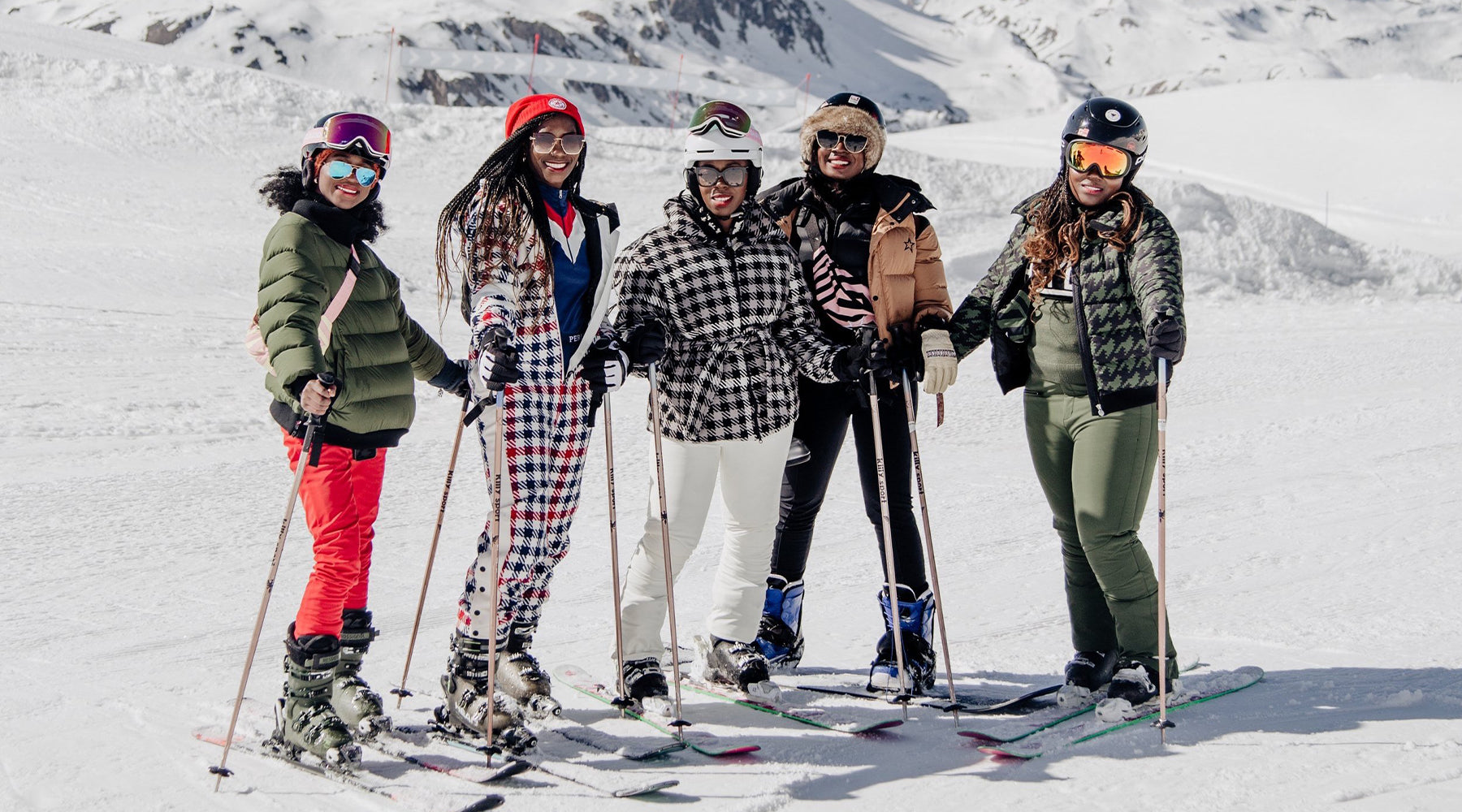 On
Black History Month - Mount Noire Q&A.
To celebrate Black History Month in the UK, we've done a Q&A with our friends over at Mount Noire to shine a light on the great work they are doing to raise awareness and promote greater diversity within snow sports.
What is Mount Noire?
Mount Noire is a travel community dedicated to improving diversity on the slopes. Our company encourages black and ethnic minorities to ski and snowboard through promoting bold imagery on our social media and planning and hosting epic fuss free trips in Europe.
What first got you into skiing/snowboarding?
Mount Noire was founded in December 2019 by five black British females. We each learnt to ski in our early 20s and have different ski journeys. We attended the same university and for most of us we were introduced to skiing through the university ski club. It was not a sport we were exposed to as children, however hearing our friends talk about how fun skiing and snowboarding is we thought we'd give it a go. At the time we could not understand the concept of opting to go on a winter holiday. After our first individual trips we fell in love with the sport.
In 2019 we planned a girls trip to Chamonix; it was the first time we skied as a group. This was the best trip, full of laughter and memories. The most memorable aspects were the attention we got on the slopes for being a group of black girls and the reception of posting our holiday photos on Instagram. We had so many of our friends' asking questions. We recognised the lack of diversity and the need for a community like Mount Noire.
Why do you love skiing/snowboarding?
Skiing/ Snowboarding is one of the most incredible experiences. We love waking up in the beautiful mountains. There's a sense of peace as you take in the views and fresh air. The adrenaline rush you get as you propel down the mountain. The amazing atmosphere at après-ski. We love the feeling of accomplishment when you finish a difficult run or go a whole day without falling.

Do you have any idols from the world of snow sports?
There are so many talented athletes in snow sports. Snow sports is predominantly a white sport, representation from black athletes will help grow the sport to become more diverse. As it is Black history month in the UK, we must mention some of the amazing Black athletes in snow sports such as Seba Johnson, Mia Clerc and Errol Kerr.
We love watching Zeb Powell and were so proud of Benjamin Alexander for representing Jamaica in the 2022 Beijing Winter Olympics.
What is Mount Noire's goal/mission?
Our mission is to bring more colour to the mountain. If we can encourage someone to try out the sport at least once, we are confident they will love it as much as we do.
What do you believe are the biggest barriers to entry within snow sports specifically?
The biggest barrier to entry in snow sports is accessibility, there is minimal exposure at a younger age. Most people opt to travel to Europe to ski which contributes to how expensive an average ski trip is. The cost of a ski trip may deter people who have never been before. Stereotypes and myths around the sport also create a barrier.
Do you believe the stereotype of skiing being a mainly 'white middle class sport' is fair?
Yes, Skiing is a predominantly white middle class sport however it has shifted to become a more inclusive sport. Most skiers are still white but from all backgrounds. Diversity is improving however when we ski, we may only come across a couple of non-white skiers.
Do you believe enough is being done to open snow sports to a wider more diverse audience?
The conversations around this have started to make a positive change. Representation in media such as print and fashion campaigns has improved but certainly needs to continue. There needs to be more work at a grass root level to expose young people earlier with the hope of encouraging more athletes.
What doesn't exist that you would love to see exist within snow sports?
When you look at other less diverse sports such as Tennis, Golf and Formula One, it took the introduction of icons such as Serena Williams, Tiger Woods and Lewis Hamilton to encourage wider participation within the sport. We would like to see a Black athlete who makes such an impact within snow sports.
Tell us about any upcoming Mount Noire trips?
In 2023 we have 2 exciting Mount Noire trips and a collaborative trip.
Mount Noire Ski Weekender - 12-15th January (Borovets, Bulgaria).
Our 4 day trip is perfect for anyone who wants a short ski experience to try it out for the first time.
Mount Noire Luxe Ski Week - 25th March-1st April (Val Thorens, France).
This is our luxury trip; we plan an exciting week filled with activities and ultimate soft life experience. This trip is perfect to get you skiing and snowboarding confidently.
Trailblazer Women Empowerment Week - 4-11th March (Sauze D'Oulx, Italy).
In association with Adventure Science platform we present this empowerment week. This trip has the perfect mix of time on the slopes, interspersed by educational content to up skill both practically in a winter mountain environment and mentally for empowerment. At the end of the week, you will receive an Emergency Outdoor First Responder Certificate.
Our tag line: Mount Noire is bringing colour to the mountain and promoting diversity in snow sports.
Follow and check out more from Mount Noire through their various platforms linked below;
Website: https://www.mountnoire.com/
Instagram: https://www.instagram.com/mountnoire/
Facebook: https://www.facebook.com/mountnoireldn/
Twitter: https://twitter.com/mountnoireldn/
TikTok: https://www.tiktok.com/@mountnoire
#bringingcolourtothemountain
#mountnoire