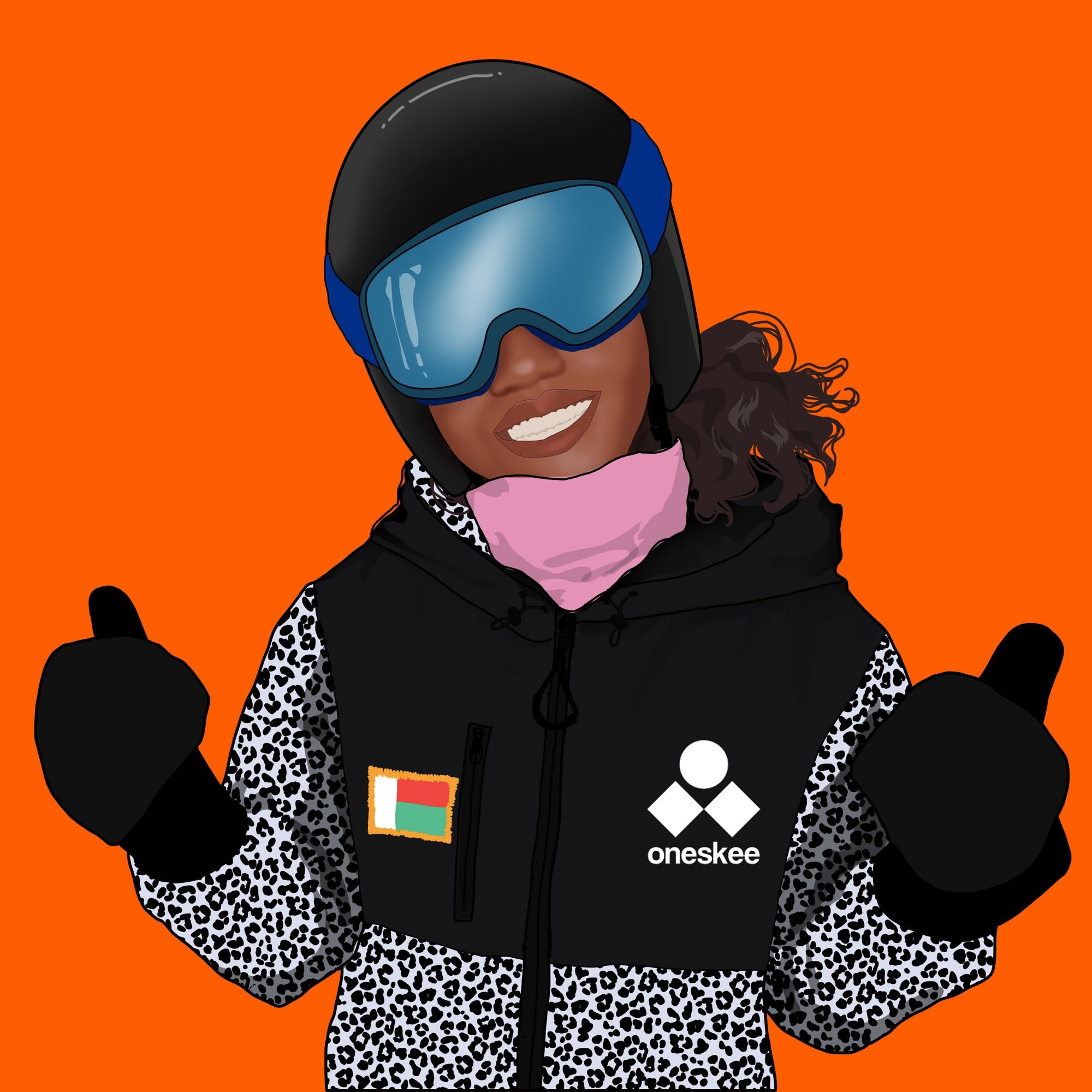 On
The Ambassador Series - Mia Clerc
1) How has COVID-19 impacted your preparation for this season?
After last season abruptly ended, I had to do a lot of physical training at home. We had to wait for information about COVID-19 and the opening of the French glaciers. We would have liked to restart skiing earlier elsewhere but weren't allowed to travel. Our program changed all the time due to either new restrictions or quarantine rules, which forced us to adapt quickly. Unfortunately I couldn't go to South America like we normally do to train and compete in the South American Cups. This resulted in me being unable to defend my Continental Cup title and the planned speed training, but nothing can be done against the rules. Overall we managed to make the best out of it in Europe and get some good work done still.
2) How does a girl from Madagascar end up having a career in skiing?
Thanks to my parents I live in France, near the mountains. Therefore staying away from skiing would have been complicated! When I was younger, I wanted to do a lot of different activities and when I discovered alpine skiing, I didn't want to stop anymore. I don't really like warmth and summer, that's probably why I keep chasing winter and snow all around the globe. I have more fun in winter when there's snow because skiing became my passion.

3) Why Alpine Skiing over other disciplines?
I had to choose between alpine skiing, dance, music and education. I chose alpine skiing because it is so different from all things we see everyday, this sport is special! It gives sensations and makes us discover a lot of things we didn't think about before. I like all the details, I like to understand precisely how things are done. Now that I want to become a champion in this field, I don't see myself doing another sport.

4) What is the best part of Alpine Skiing?
The best thing in alpine skiing is when you get up early and it is dark, you arrive at the top of the first lift and the sun rises. You're doing your first runs with a beautiful view, hard snow, and a blue sky. That is the thing we're living for, you can just be happy at that moment and enjoy every second of your day! It seems like a dream!

5) What is the worst part of Alpine Skiing?
I would say that when it gets extremely cold it's not always nice to be almost naked wearing only a spandex suit and super tight ski boots! It makes me want to get back in my Oneskee suit as fast as I can! I guess that's extra motivation to cross the finish line faster!

6) What did it mean for you to represent Madagascar at the PyeongChang Winter Olympic Games in 2018?
It was something huge and it was an event that we will never forget! I could not be any prouder than being the flag bearer of my country during the opening ceremony. It was a great step for Madagascar and for me in the World of alpine skiing. I was not the first Malagasy to represent Madagascar at the Winter Olympic Games in the Alpine skiing discipline, but I was the first Malagasy woman to represent my country and I think that I've impressed the public at the Olympics, but also the Malagasy public who follows the results of the Malagasy Athletes. For me it is a first accomplished thing: to be seen and recognised within my home country.
7) What are your goals for this coming season?
The goal is to decrease my points and world ranking in technical disciplines (slalom and giant slalom) and to score less than 80 points in Super Giant and Downhill to be able to start at the World Championship and at the Olympics in every discipline! I'm going to compete in European Cups and World Cups if it is possible this year and some FIS races too. This year I would be at the World Ski Championships in Cortina, Italy, and at the Junior World Ski Championships in Bansko, Bulgaria.

8) You're still only a teenager, what are your ambitions for the next 5 years?
I will work a lot physically and mentally to get closer to my goals: make top 30 in European Cups, make podiums in European Cups, make top 30 in World Cups, make podiums in World Cups, achieve my best results at the World Ski Championships, achieve my best results at the Winter Olympic Games. I'm very young but the sooner I get closer to my goals, the sooner I can achieve them and the sooner I will be proud of myself.

9) What would be your best piece of advice for someone growing up who is chasing their own 'unlikely' dreams?
There are three points that i've just learned and I would say that:
- You must have POSITIVE thoughts and look straight ahead of yourself.
- You must ask yourself every time you feel bad: WHY are you living for your passion and HOW can you achieve what you want?
- When you do an activity (sport or other), you must give it 100% without hesitation!
10) Outside of skiing, what are your other passions?
I like sewing and styling. I'm doing sewing and styling classes this year to improve these skills and hopefully help me into the fashion world in the future. I also like music and drawing.

11) What does Oneskee stand for to you and why do you like representing the brand?
Oneskee is a brand that shows that you don't need to copy the others or to copy the standard to create and be what you want to be. Oneskee teaches us to show a new image of the skier and snowboarder outfit, a new image of the style itself but also a new image of us! We follow this trend because we trust this brand and above all because we dare to be different too! I like to represent Oneskee because this brand is really different from all other winter clothes brands, it chooses the difference, the style while still keeping our comfort and warmth in mind. Thanks to Oneskee I choose to be different because I learned that to move forward you have to take different ways than the others, to discover and improve in your own way. Representing Oneskee allows me to be different. Oneskee helps me to show myself with a different style and character!